Four siblings in New York visit a gypsy woman in her filthy apartment and learn the dates of their deaths. What they hear will change the courses of each of their lives whether they think they believe or not. None of them were prepared for the information they receive.
Title: The Immortalists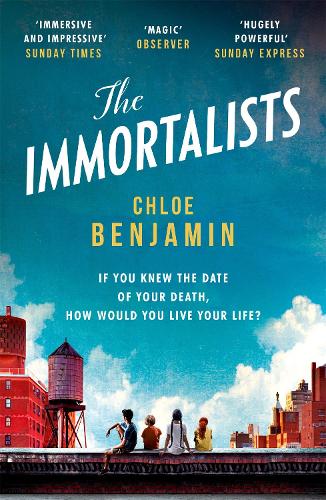 Author: Chloe Benjamin
Press: Tinder Press (Hachette)
Rating: 9
This was such a beautiful exploration of sibling dynamics and personality. As one of four myself I think I felt a particular affinity with this family of unlikely friends as they grow apart while being intricately entwined by their shared past.
I wept and wept, there were beautiful, uplifting moments paralleled with vignettes of senseless loss. The poignancy of the times they lived in, always on the brink of something, and the choices they made allows space for the reader to question notions of faith, belief and free will.
I would thoroughly recommend this to anyone looking for an easy, but far from light, book to see in the summer. The stifling heat of the opening chapter is visceral, creeping into the reader's space. Each of the four children and their parents are brought to life beautifully and as each of them matures the reader has the sense that they know each of them intimately, able to anticipate their movements and decisions.
Featured image: Photo by Clint McKoy on Unsplash