Author: Stuart Turton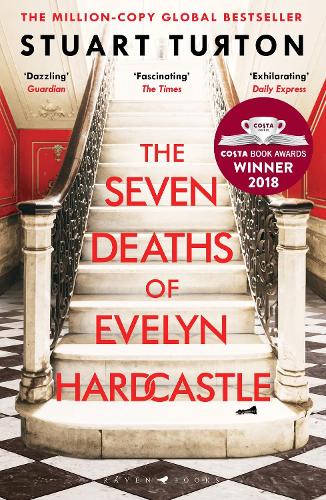 Title: The Seven Deaths of Evelyn Hardcastle
Press: Raven Books (Bloomsbury)
Date of Publication: 2018
Prizes: Winner of the Costa First Novel Award 2018
Date of Purchase: December 2018
RRP: £8.99
Price of Purchase: £2.50
Reading Time:  8 days
Rating: 9
I needed to get my grubby mitts on this after all the hype and for once my expectations were exceeded. If, like me, you normally hate not knowing what's going on in a book this might take you a minute to get into. However, Turton's style is enough to make suspending your thirst for knowledge bearable. He drops enough breadcrumbs to keep it interesting for even the most impatient reader and handles one of the most complicated worlds I've read with apparent ease.
There aren't many authors who I let off with the kinds of flowery imagery and extensive descriptive passages employed here but for whatever reason, set the in the dilapidated house in the country in year unknown Turton masters it and I don't hate it. I was transported to Blackheath and the narrator's fears and curiosities became my own.
The decaying glamour of the house and the omnipresent storm helps to create a genuinely haunting atmosphere. If nothing else, allow yourself to get lost in the greed and corruption of the wealthy characters who walk the pages and rest assured that your patience will be rewarded.
I'm very excited to see what he writes next.